KHYS Postdoc Days 2021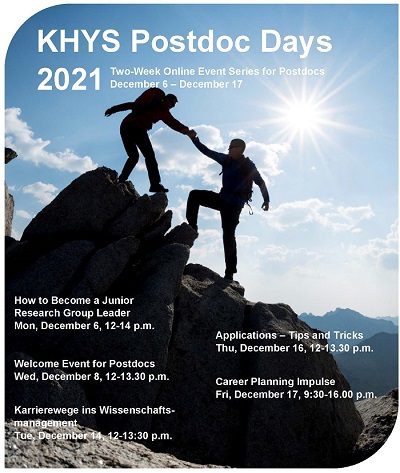 We are happy to announce the second KHYS Postdoc Days, which will take place during the first two weeks of December 2021.
The ▶ KHYS Postdoc Office has organised several online events in cooperation with other service units and partners at KIT in order to support you in every stage of your postdoc phase with vital information and advice. To give you detailed practical insights, several guests, speakers and experts (early career researchers at KIT, scientific managers and many more) have been invited to share their experiences with you and answer your questions.
The kick-off event and panel discussion ▶ How to Become a Junior Research Group Leader focuses on funding options and decision making for postdocs who consider becoming a junior research group leader, but are still uncertain whether this might be the right career path for them. Welcome will be given by Professor Dr. Oliver Kraft, Vice-President Research (KIT). This event will take place on Monday, December 6, 12 - 2 p.m.
The ▶ Welcome Event for Postdocs has been rescheduled and will now take place on Wednesday, February 16, 12 - 1.30 p.m. At this event, you can find out more about the postdoc phase at KIT and also which support and further qualification offers or funding programs are available at KHYS. Furthermore, two testimonials (former postdocs) will share their experiences with you.
The panel discussion ▶ Karrierewege ins Wissenschaftsmanagement (Career Paths into Science Management) will focus on the relatively young profession as science manager and its various career options. But how exactly can the career field be defined? What kind of academic requirements are necessary for an entry into science management and which "soft skills" are particularly helpful? The event will be held in German.
Please note: This event has been postponed. It is expected to take place in February 2022.
In the fourth event ▶ Applications - Tips & Tricks KIT Career Service will give you an overview of what's important when you are applying for jobs inside and outside of academia. The event will take place on Thursday, December 16, 12 - 1.30 p.m.
And finally, you can book a 30-minute ▶ Career Planning Impulse session. Career counsellors will give you advice on the career planning topic of your choice. You can use this one-to-one session e.g. to get a personal feedback on your application documents (CV, cover letter etc.), to develop ideas on where to look for suitable job offers outside academia, or you can get first advice on how to plan your future career paths in a more strategic manner. The sessions will take place on Friday, December 17, 9.30 a.m. - 4 p.m.
Please note: This event is already full. However, you can still sign up for our waiting list. In case a registered member cancels their booked session, we will contact potential successors.

Please note: Due to the current situation, all events will take place online (zoom).
We are looking forward to seeing you at the KHYS Postdoc Days 2021!